Flying Squad: Since 1990
"The Original Flying Company"
Flying Squad was the very first promotions and marketing company for the nightclub and music industry in London.
Born out of the iconic raving mad 90's Britain, we are proud to have played an instrumental role in the development of clubbing and club culture in the whole of the UK.
Throughout the past 20 years we have worked with each and every one of our greatest night life institutions, but also its underground heroes.
From legendary rave promoters Fantazia, Elevation, Raindance, Sunrise and not forgetting Energy..
To the global successes of Ministry of Sound, Cream, Renaissance, Gatecrasher, Fabric, Global Gathering and Lock'n'Load;
From the very first gigs of DJs named Carl Cox, Billy Daniel Bunter, the Prodigy and Nicky Blackmarket..
To the ongoing legacy of the likes of John Digweed and Bedrock, Sasha, The Gallery, Ministry of Sound and Ram Records;
Even from record company giants Sony, EMI, Virgin…
There really isn't any promoter, venue, artist, record company or regular clubber who has not met The Flying Squad at some point in their lives.
Many blue-chip companies have seen the advantages of our targeted audience and have ensured successful promotional campaigns over the decades, including the NHS, Bupa, TFL, the Met Police, Superdrug, BBC, Hugo Boss, Merlin Leisure, Frank Warren ( Box Nation ) and Sony PlayStation, to name just a few…
That makes Flying Squad a special institution in night life entertainment – as tireless innovators and promoters of UK club music culture since 1990, we've documented clubbing history every weekend without interruption for over 20 years.
Long live the Flyer revolution!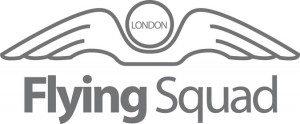 The Company that revolutionized the whole flying concept.
The Flying Squad has over two decades of flyer distribution – direct marketing, constantly current.
Distribution is between 1K – 10K per weekend, that's a readership of about 30K. Reaching all
genres of music. No other company is more experienced in this promotional field than The Flying Squad.
We guarantee that your Flyer / Merchandise are distributed to your target audience; your company gain maximum exposure through our vast knowledge of night life entertainment, festivals and live music events. The main arm of our company is promotion through flyers ranging from outdoor events of 100,000 capacities to small intimate inside entertainment venues, bars and nightclubs.
We are also experienced in promoting Music, Leisure, Arts, Film, Fashion and Youth Awareness campaigns. Tried and Tested Clubbers take The Flying Squad pack to gain knowledge of the official events and alternative campaigns going on around the UK, here's a few reasons why:
• We use the most cost effective method of flying to date
• The flying squad workforce distributes at most nightclubs and music venues for a minimum of one to three hours to the main foot flow of customers leaving at the end of the night.
• We have official exclusive distribution inside most venues
• Clubbers are more inclined to take a Flying Squad pack than numerous individual flyers, this is a proven fact.
• The Flying Squad pack is more acceptable at venues because the litter is minimal, so it's much better for both the venue and for the environment.
• The Flying Squad pack is waterproof.
• Core visual advertising space is available on both the outside & the inside of the Flying Squad inserts of packs. To gain from this promotion you will need to book on average 2 -3 months in advance (Please see our price list for more info).
• The Flying Squad pack is the most sought after and recognised flyer pack used inside the M25 London circuit, it's a fact!
Flying Squad are the innovators, not the imitators.